Antique or Distresses Leather...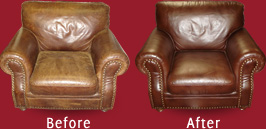 Through a special process called "antiquing", we can make your cherished antiqued leather look like the day you purchased it. We can even stop it from wearing or further distressing. Ask us for details.
An antiqued piece of leather furniture gives the appearance of an old sofa but with the benefit of being a brand new piece. This process was pioneered in England in the UK many years ago.